dr. Tjalling de Haas
Dissertatie: 'Life, death and revival of debris-flow fans on Earth and Mars: fan dynamics and climate inferences', 5 februari 2016, Universiteit Utrecht.
In zijn onderzoek past hij kennis uit de geologie toe op onderzoek naar de planeet Mars. Middels deze interdisciplinaire connectie kunnen wij nu meer begrijpen van de geologie van planeten, en hoe die per planeet verschilt. De inzichten die hij hiermee heeft opgedaan zijn relevant voor de gehele astronomie.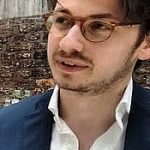 dr. Rogier Quaedvlieg Prev post
dr. Nienke van der Marel Next post